We have three pieces of recent Kidney Disease and Kidney Care news we are excited to share.
NICE Guidance on Chronic Kidney Disease
The first is that The National Institute for Health and Social Care (NICE) has published new guidance on Chronic Kidney Disease for adults and children.
You can read the full report here: https://www.nice.org.uk/guidance/NG203
New Renal Registry Report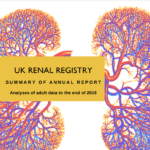 The latest UK Renal Registry Report provides an analyses of the care provided to patients with CKD.
The report summary provides a lot of interesting data and plain English summaries for anyone with an interest in Kidney Disease or healthcare.
Click this link to read the summary https://bit.ly/3l2tXiA
BMJ Awards Shortlist

We send congratulations to Dr Dimitrios Moutzouris and his team for their BMJ Awards short-listing for the home monitoring service for transplant patients.
See all the nominees at https://thebmjawards.bmj.com/shortlist/
Good luck!