Earlier in June, following a successful World Kidney Day Sail, a Transplant Sailing Challenge crew took part along with 1300 other yachts in the famous Round the Island Race, an annual event covering 50 sea miles around the Isle of Wight.
Jacquie Dowding reports.
I believe that the inception of the project was when I promised my surgeon Mr Georgios Papadakis (while waiting in the ward before my transplant) that I would some how organise a sailing event for transplant recipients and my Renal and Transplant Teams. This would be a way of saying thank you, and of showcasing the success and life transformation that can result from a transplant. Equally important for me was to thank my donor and their family, by demonstrating that I now had my freedom to do something that I was passionate about in the element that I love.
I originally began to plan for a Round Britain Sail. However, the logistics and timeframes did not allow the project to go through, and I was very weary from writing and calling for sponsorship and speaking to the media in my very tight spare time.
So I thought I would continue by going back to Square One.
The World Kidney Day Sail (WKDSail) may have been only one day, but it had an impact. On board we were honoured to be joined by Professor Nizam Mamode, as well as crew made up of transplant recipients. We were also joined by ITV Meridian News, and I gave some local radio interviews.
Following that day, I saw another opportunity on the horizon. The Round the Island Race (RTIR) is a famous event in the racing calendar for yachts of all sizes. Their slogan is: A Race for All. I had some funds left from WKDSail and entered the race. I then needed a boat again and a crew.
I found most crew members through contacts and people I had sailed with before. Some were complete novices, though one took a four-day course and another came with me on a trip in Chichester harbour and a few hours with another crew member.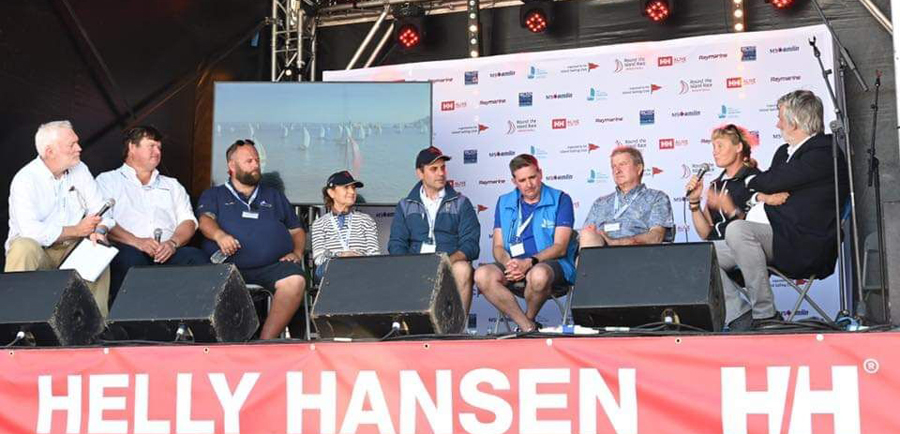 Then Mr Papadakis followed up my invitation from two years ago and came on board with us. Race day was coincidentally my transplant's second anniversary. What a massive bonus with my surgeon by my side!
Once again we chartered our chariot, Cascadeur, a 41 foot yacht, from a colleague. Then, we needed to raise funds, I began by contributing our own money, and fundraising really took off.
The start of the race was at 0840. Anxiety mixed with excitement meant that the atmosphere on board was electric and we cheered loudly going over the Start Line. That was the spirit that continued to dominate throughout the race.
The wind increased as we headed for the south of the island and so did the strength of the sun. Then the wind started to die, until there was none and we were rolling like a barrel with the sails flogging, the crew roasting for over two hours…as skipper I had to make a difficult decision. We retired—along with 851 other boats. But we were winners from the start and felt like winners, from beginning to end.
We have been twice blessed and will never lose. After the race, we had several media interviews and plugged away with our message supporting organ donation, and the importance of people sharing their wishes with their families.
The crew and I would like to thank everyone who made this possible: our donors, their families, Transplant Teams, the media and, of course, our sponsors. And many thanks to the KPA Committee for their support in our endeavour.
Finally, watch this space. There are plans afoot that could involve you!