Young adult kidney patients take to the hills
In early July a small group of Guy's and St Thomas' young adult kidney patients took part in a Climbing Out outdoor activity programme held in North Wales. They joined other young people from Leeds Renal Unit to stay together in a youth hostel situated on a remote hillside. I was fortunate in being able to attend as a volunteer youth worker to support the whole group and fully participate in the challenges on offer.
Climbing Out
Climbing Out (www.climbingout.org.uk) is a charity that runs bespoke five-day outdoor activity programmes aimed at rebuilding confidence and self-esteem in young people aged 16-30 years, who've been through a life-changing injury, illness or trauma. The programme offered a wide range of activities, including climbing, gorge scrambling, coast steering, kayaking, hill walking, abseiling and raft building.
The group was made up of young people with different kidney conditions (dialysis, transplant, chronic kidney disease and nephrotic syndrome). All the activities were tailored to the needs and capabilities of the individual participants, so that it didn't matter about their fitness or physical limitations and everyone was kept fully involved throughout the week.
The instructors were specifically trained in personal development coaching as well as outdoor activities, and ran fun and light-hearted sessions each morning and evening, so the young people could review and reflect on their learnings from the day's activities. These sessions provided the young adult kidney patients with the skills to then transfer those lessons to life after completing the programme.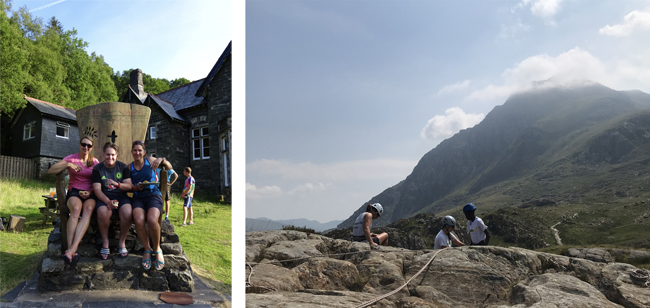 On arrival, only a handful of the participants knew each other, having only met on their long journey to Wales. But by the end of the week, there was an overwhelming feeling of camaraderie and team spirit due to the shared learning and positive experiences they had gained together.
Quiz night and a BBQ
Different social events were held each evening, including an inspirational talk by a young person who had experienced challenges and trauma in their life, a Quiz night and a BBQ and there were plenty of opportunities for the young people to socialise with their peers.
GSTTKPA Grant
Although the activity week was fully funded by Climbing Out, these young people were only able to travel from London to participate due to the generous grant made available from GSTTKPA. I would like to say a personal thank you to the current Chair and KPA Committee for their continued support of young adult kidney patients and for all those people who tirelessly help to raise precious funding for the KPA. The statements here are from just a few of the young people who attended the week.
Vanda Fairchild
Young Adult Kidney Co-ordinator, Guy's
and St Thomas' NHS Foundation Trust